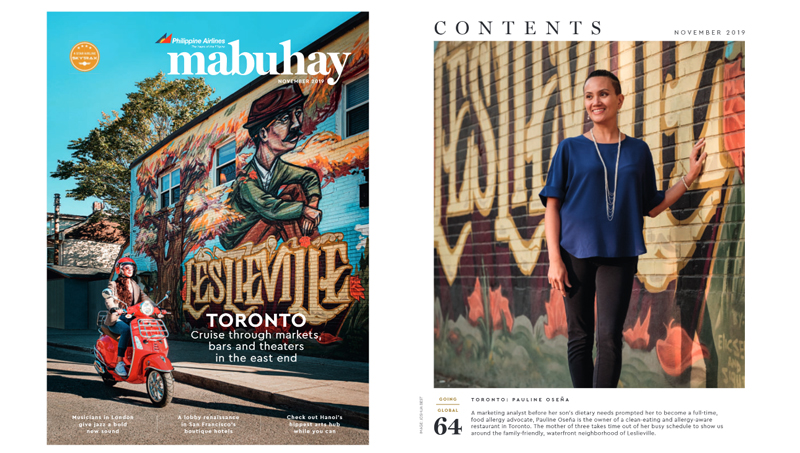 Published by: Philippines Airlines – Mabuhay November 2019
As told to Waheeda Harris – Photography Joshua Best
A marketing analyst before her son's dietary needs prompted her to become a full-time, food-allergy advocate, Pauline Oseña is the owner of a clean-eating and allergy-aware restaurant in Toronto. The mother of three takes time out of her busy schedule to show us around the family-friendly, waterfront neighborhood of Leslieville.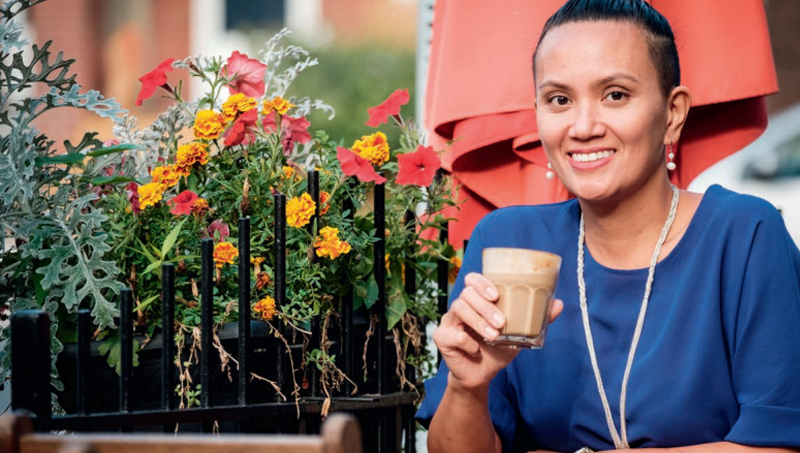 I was born in Manila but raised in Toronto, where my family migrated when I was five. My parents met in Manila: dad is from Quezon, while mom hails from Iloilo. Manila is a city that holds many memories for me. My sister still lives there, and my last visit was in 2011, to celebrate dad's 70th birthday and when I found out I was pregnant with my first child.
In Canada, I grew up in Mississauga, a suburb in Toronto, but moved downtown for university. Since then, I've settled in this part of the city and I now live in Leslieville with my husband and three children. It's wonderful to see how this neighborhood has grown and flourished in the last seven years. When my first son was born, I was a business marketing analyst. But things changed when he began showing signs of food allergy at six months old. I knew nothing about such health conditions so it was a steep learning curve. We eventually discovered he would have adverse reactions to some food items, including peanuts, tree nuts, dairy products, eggs and other
common ingredients found in many dishes.
I started reading up on the topic, engaging in food allergy advocacy, creating an online community and support group for parents of children with allergies in Toronto and writing a blog called HypeFoodie.com.
That led to me becoming a bi-weekly contributor to the Huffington Post, where I wrote a column called the "Allergy-friendly Recipe Makeover". This involved offering alternative recipes to popular dishes such as pumpkin pie and shortbread cookies, without common allergens like eggs, wheat, soy, nuts and dairy. Although I don't have formal restaurant training, I love to cook. For that, I thank my mom, who taught me the essentials of Filipino cuisine.
While learning to test recipes, the priority was to feed my son without compromising his health, but it was important that my food tasted good too. As he got older and it became less appropriate to bring his own food to restaurants, my husband and I recognized the need for a restaurant where people with dietary restrictions can dine. We decided to start our own restaurant that would serve up allergen-free dishes.
We opened Hype Food Co, on the corner of Gerrard Street and Jones Avenue in Leslieville, in May 2018. We didn't hire a restaurant consultant – instead, I learned from friends in the F&B industry about recipe development and food service, focusing on creating systems that would avoid crosscontamination between ingredients, like ensuring cutting boards and knives are cleaned after every use and placing all ingredients in covered containers with dedicated tongs.
I'm committed to offering great food that is free from gluten, dairy, nuts, soy, sesame, fish and eggs. Everything at Hype Food Co is made in-house. I want to make our space a welcoming place for families: There is a train play table and a Lego table for kids as well as drawing boards and books, and an area to park strollers. Many of our regular customers don't have any dietary restrictions, but visit us daily because they appreciate tasty homecooked meals.
Keep on reading at https://mabuhay.ink-live.com/html5/reader/production/default.aspx?pubname=&edid=a56bb100-0cce-497e-986b-54c1bd274190